Rechargeable Battery Pack Provides Fuel Gauge Data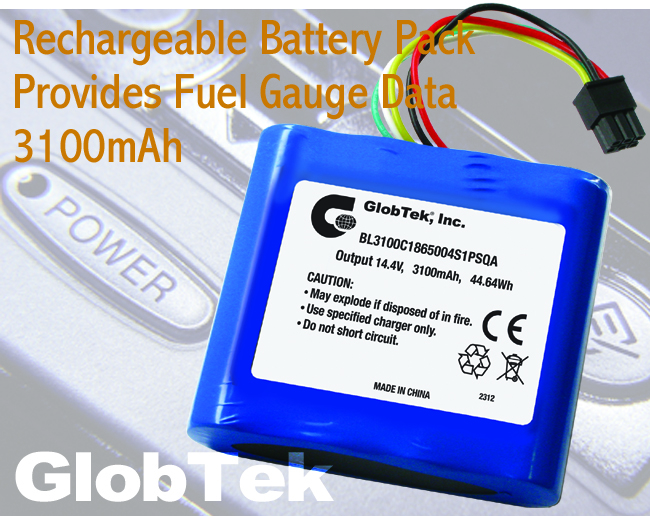 Providing smart rechargeable power capability to advanced portable and remote devices, the BL3100C1865004S1PSQA Li-Ion Battery Pack from GlobTek incorporates fuel-gauge functionality to provide important power status information. The 14.4V pack has a 3.1Ah capacity and includes a built-in protection circuit as well.
"You can no longer put a battery in one of today's products without providing a means to check on the power status, as device operating life is a critical aspect of a device's performance" David Rakovsky, GlobTek's COO, points out. "Knowing the battery's status allows both the device and the user to implement power-saving tactics and techniques as the fuel gauge needle drops to empty."
The battery packs are approved to UL1642 and use an SMBus communication line to access battery parameters from the fuel gauge memory. Protection features include overcharge detection, overdischarge detection, and overcurrent detection. Charge retention at 1 year storage at -20°C to +20°C is greater than 80%, and the operational temperature range for discharge is from -20°C to +60°C.
Modified and custom designs are available in a variety of voltages and capacities, and a "made in USA" option is also available. The battery pack complies with EU 2002/95/EC AND CHINA SJ/T 11363-2006, CE Mark 2004/108/EC, as well as EN61000-6-1:2007 and EN61000-6-3:2007.
As seen in Hearst Electronic Products