Lithium-Ion and Lithium Polymer Battery Pack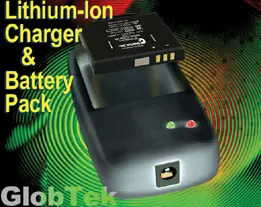 Li-Ion chargers offers a compact and cost effective solution for charging GlobTek's GL-523434A2
Lithium-Ion
and
Lithium Polymer battery pack.
It features the ability to be custom tailored for specific applications while providing the highest level of safety in lithium battery chargers. GlobTek's GT-91126-LI01 series of smart chargers includes pre-qualification of the battery condition before bulk charging will commence. If the battery voltage is low, a trickle charge will be enabled until the voltage is high enough for safe bulk current charging. Constant current and constant voltage charging technique is utilized during bulk charging phase. Charge is terminated when charging current dropped to 10% of the bulk charge level. A programmable charge timer is also included as safety back-up for charge termination. Charge status indicators using two LEDs and battery over temperature protection are also included.
The charger is housed in Impact Resistant non-vented Polycarbonate Case, Thermal Conduction Cooling, Case Dimensions: 95L x 50.1W x 22.6H mm. This charger requires GlobTek GT-41052-1512 Wall plug in power supply or GT-41062-1512-T2 or T3 tabletop power supply (12V input). Modified and Custom Designs are also available. Made in USA option available upon request.